Book Review: Daughter of the Pirate King by Tricia Levenseller

Alosa is sent on a mission to retrieve the missing piece of a map that leads to an island full of treasure.  She orchestrates her capture by the enemy allowing for the perfect opportunity to search their ship.  More than a match for the fearsome pirate crew Alosa has only one thing standing between her and the map: her captor, the unexpectedly clever first mate, Riden.  He may see through some of her schemes but Alosa has a few tricks up her sleeve for nothing can deter the daughter of the Pirate King.
This book was amazing!  The characters were remarkable and the tale was distinctive.  The setting was also incredibly interesting for who does not want to read about pirates, sirens, and treasure?  I would definitely recommend this book which contains strong lead characters who do not back down from a fight.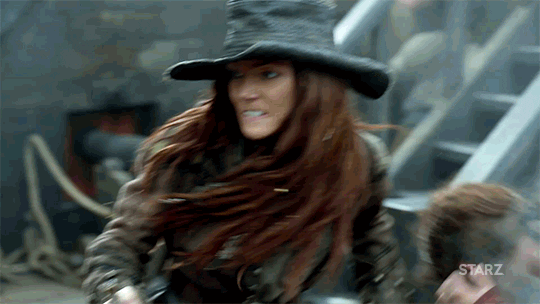 The main character, Alosa was simply kick butt and I loved how she could fight and escape quite handily.  Plus the fact she was part siren.  It added a unique quality to her character along with her other skills.  Her constant arguments and undeniable attraction to Riden was entertaining to read about.  Her character was witty, intelligent, strong, and she could move on with life even as people died.  I liked her style choices and it was hilarious to read about some of the scrapes she got into on board the Night farer.  However, her character bore past scars for her father basically tortured her for his own purposes.  He made her strong and able to endure extreme situations but he also molded her to be the pirate he wanted her to be.  Despite that Alosa's character stood strong and true and I quite cherished her.
Riden was the perfect love interest for the tale.  We didn't have a chance to really see him fight but we were led to believe that he was as amazing if not better than Alosa.  What really drew me as a reader to him was his ability to draw out and interact with Alosa.  He engaged in witty banter with her while easily reading her like no other had ever been able to do.  He could see the change in her when she eased into her siren side and he predicted her escapades.  He was loyal to his brother and yet he sometimes did not stand up to him.  Despite that, he covered for Alosa and it was simply intriguing to read about him falling for her.  He was the quintessential man for the daughter of the Pirate King.
The other pirates were deliciously without honor.  Some were superstitious, others cruel, and others were drunkards.  They each had their vices that are usually expected of pirates and I quite simply loved it. The other pirates contributed in their own ways to the tale making the book more intriguing and engaging
Beyond the characters, I quite liked the setting of the book.  The world is ruled by pirates along with dangerous sea creatures.  The whole reason for Alosa having to purposefully get captured was intriguing within itself and completely something a pirate would focus on for every pirate wants gold and treasure beyond imagining.  It was unique making an already wonderfully written tale all the more outstanding.
I would highly recommend this book and I simply cannot wait to get my hands on the second book to find out what happens to Alosa and her crew of thieving scoundrels.